Our Piston Design Pilot Control Pressure Reducing Valve is easy to install and maintain. If the inlet pressure is higher than set outlet pressure, this valve reduces it to a steady lower outlet pressure not matter the changing flow rate and / or inlet pressure. Model UL-BFR, the Z-Tide UL Listed Pressure Reducing Valve are indispensable in any Fire Protection system.
Design of UL Listed Pressure Reducing Valve
The design of this valve doesn't have outside pipes/conduits, allowing a better installation, maintenance and performance by it's bigger chamber and straight flow track that provides a big flow.
Application of UL Listed Pressure Reducing Valve
Our UL Listed Pressure Reducing Valve for Fire Fighting System can be applicable in fire safety systems as Sprinkler Systems, Foam Systems and Deluges Systems without the need of any modification.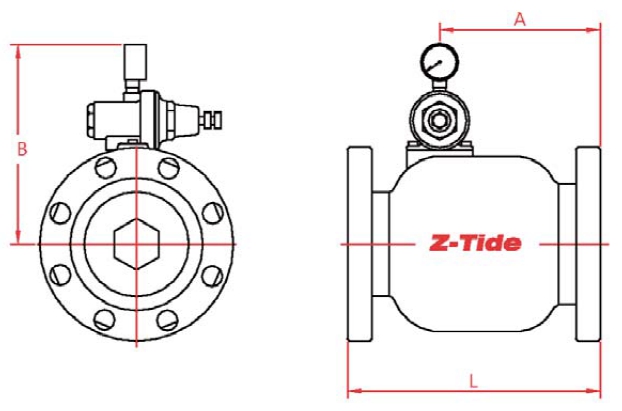 Sketch of UL Listed Pressure Reducing Valve
Features
◆ No Conduit, Compacted size for easier Transportation, Installation, Maintenance and Repair.
◆ Maintain outlet pressure regardless fluctuate inlet pressure.
◆ UL Listed Pressure Reducing Valve is suitable Fire Protection Sprinkler System, Pumping System, Hydrant System…etc.
◆ Convenient in-style mounts either horizontally or vertically.
◆ Wide range capacity to handle local water supply pressure and adjust to specific pump specifications.
◆ Stainless steel material pilot and pressure gauge.
◆ Adjusting pilot allows easy calibrated pressure adjustment.
◆ Easy maintenance, maintenance kits are available upon request.