Model BTR/ BFR, A Pilot Control Pressure Reducing Valve reduces pressure of inlet flow into desired outlet pressure. Pressure Reducing Valve can prevent damage within pipelines due to high pressure. Unique piston design to exclude conduit piping, made it compact size which is easy for transportation and assembling. Simple pilot control allows on-site pressure adjusting.
Application of Pilot Control Pressure Reducing Valve
Our Pilot Control Pressure Reducing Valves are most suitable for Hydraulic systems. Hydraulic Pressure Reducing Valves are widely utilized in many applications, especially for Building & Construction, Fire Protection, Mining and Waterworks.
(Project Reference : Pressure Reducing Station for Mining in South Africa)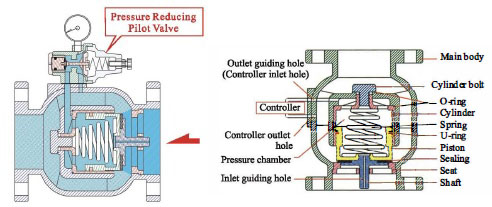 Pressure Reducing valve Cross Section Drawing & Material Detail
Features
◆ No Conduit, Compact size for easy Transportation, Installation, Maintenance and Repair.
◆ Maintain outlet pressure regardless fluctuate inlet pressure.
◆ Pressure reducing valve is suitable for general liquids and gases.
◆ Convenient in-style mounts either horizontally or vertically.
◆ Wide range capacity to handle local water supply pressure and adjust to specific pump specifications.
◆ Adjusting pilot allows easy calibrated pressure adjustment.
◆ Easy maintenance, maintenance kits are available upon request.