Model RLT/ RLF, a Direct acting relief valve or Direct acting pressure relief valve, is a type of safety valve used to control or limit the pressure in a system; pressure might otherwise build up and create a process upset, instrument or equipment failure, or fire.
Application of Direct Acting Pressure Relief Valve
Our Direct Acting Pressure Relief Valve has utilized in wide range of sector, such as (not limited to) Industrial, Building, Food & Beverage, Pharmaceutical and Water Sectors. Generally used for gases and liquids.
(Project Reference : Pipeline Protection Combining Water Hammer Arrester in Singapore)
How to adjust Direct Acting Pressure Relief Valve?
Step 1: Loose the lock nut of the adjusting stem. Turn the adjusting screw counterclockwise until lowest outlet pressure.
Step 2: Adjusting the required set-point by turning adjusting stem clockwise and watch the pressure gauge to required upstream pressure.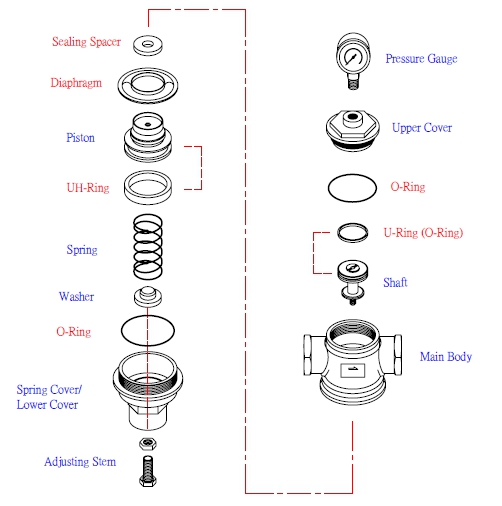 Explode view of Direct Acting Pressure Relief Valve
Features
◆ Pressure Relief valve is a safety device to release exceed pressure, preventing undesired damages within a system.
◆ Direct Acting Pressure Relief Valve is suitable for general liquids and gases.
◆ Suitable for process automation control and many general purpose applications.
◆ Convenient in-style mounts either horizontally or vertically.
◆ Wide range capacity to handle local water supply pressure and adjust to specific pump specifications.
◆ Adjusting nut allows easy calibrated pressure adjustment.
◆ Stainless Steel 316 lower body and upper body construction for durability and compatibility.
◆ Easy maintenance, maintenance kits are available upon request.